Toronto's structural clarity in a sea of confusion.
10 Ways to Repurpose Your Basement
February 05, 2021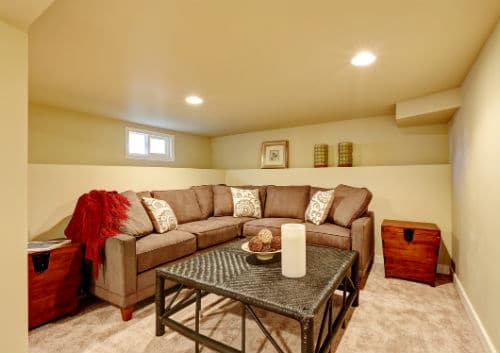 When you picture a basement, dark spaces with cobwebs often come to mind. However, homes with those kinds of basements are really just sitting on top of unused/underutilized real estate that with a little imagination (and quite a bit of elbow grease) can become one of the most beloved spaces in any home. But once the decision to renovate your basement has been made, the question remains: what should you do with all of that new square footage? As it turns out, the answers are endless.
That's why the team here at GJ MacRae put together a list of ten potential uses for your "new" basement, ranging from the expected to the unconventional, to help guide you in making this major decision for your home and for your family.
1 Additional Bedroom
While not particularly exciting, an additional bedroom can be just the thing needed for a growing family. When combined with a bathroom, a basement bedroom is also an excellent place for guests to stay!
2 Additional Kitchen or Kitchenette
If you entertain a lot or simply have a lot of mouths to feed, putting a second kitchen in the basement can be a life saver. This "kitchen" can range from a simple additional refrigerator and sink to a fully developed second kitchen, depending on your family's unique needs. Regardless, this option can take a lot of stress away from mealtimes, family gatherings and big dinner parties in general.
3 Laundry Room
Basements are very common locations for laundry rooms, which in modern times can be quite spacious and beautiful (unlike the dingy basement laundry setups of yesteryear). A thoughtfully planned out and well-constructed basement laundry room can function as the cleaning center of your home while staying out of the way.
4 Storage Space
It may not be the most interesting option on the list, but sometimes additional storage is what a home truly needs. Storage units can get very expensive very quickly, so creating a dedicated, temperature-controlled storage space in the basement can be an excellent alternative. The comfort of knowing your things are so close instead of off in a facility somewhere is just an added bonus.
5 Home Office
In many homes that do not have them built in, unoccupied bedrooms or corners of otherwise-designated rooms (like the dining room, or the living room) tend to serve as the home office. In an increasingly "work from home" and technology-driven world, computers have become staples in most homes – and a home office tends to be the best place to keep them. This means that families that may have never seen a need for a home office before could make great use of one moving forward. Why not use the basement? Where relevant, a home office can also make for a nice and quiet environment for homework or study time.
6 Game Room
And we're not just talking about video games! If your basement has the space for it, real world game tables like pool, ping pong or even pinball machines can turn your basement into your home's personal arcade. Add a table and chairs and a selection of board or card games, and family game night will never be the same again.
7 Home Gym
If physical fitness is your thing – or, if you'd like to make it your thing – then a home gym might be a good way to go when remodeling your basement. That way your household has exercise equipment right at your fingertips, without anyone tripping over spare weights in the hallway or squeezing around a treadmill.
8 Craft Room
Some hobbies don't require much in the way of equipment or supplies, but some do. If your passions fall into the latter category, a basement craft room or workshop might be the missing puzzle piece. Whether it's carpentry, sewing, or film photography, your basement could be the perfect place to both store your supplies and actually practice your craft, all within the comforts of your home.
9 Family Room/Den
Since basements are below the ground level (and therefore are not as noisy as above-ground rooms), they make excellent locations for informal family dens or playrooms. Whether your perfect family room means a surround-sound media system or a fun, safe place for your little ones to play and get their homework done, basement dens are excellent additions to any family home.
10 Home Bar/Wine Cellar
If you have an underused basement and entertain frequently, but don't need additional living spaces, then a home bar or wine cellar can be an excellent addition to a home. Basements make for ideal wine cellars, which makes for a cost-effective way to keep your wine collection the temperature it ought to be. And if wine isn't really your thing, basements are tucked away from the rest of the home just enough to make them seem nice and cozy for an in-home bar.
These ten options are just the tip of the proverbial iceberg when it comes to the possibilities for your basement. In fact, in many modern and updated basements, you'll find any number of combinations of the options we listed above. No matter which way you decide to go, or even if you just want your basement inspected to see what's possible, the experts at GJ MacRae are here and ready to help you create the home of your dreams. Please contact us to learn more about our services.