Sump Pump Installation Services
by GJ MacRae
"Quality is never an accident. It is always the result of an intelligent effort." – John Ruskin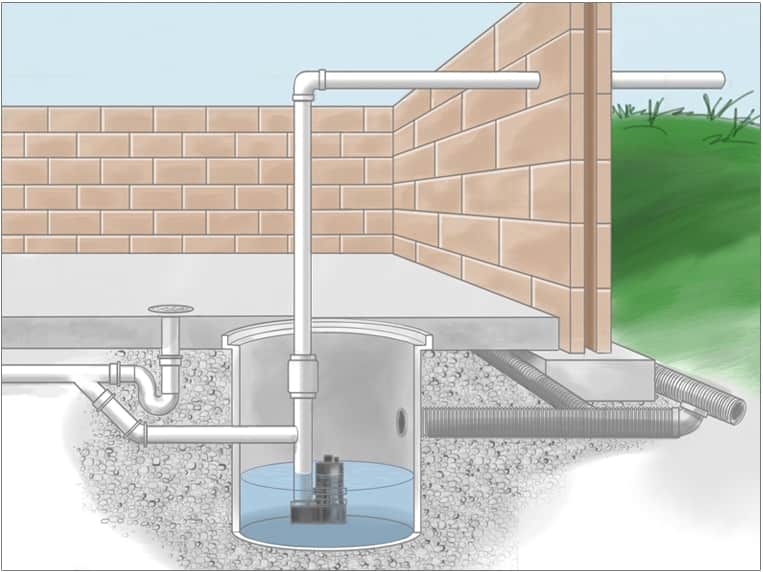 Sump Pump Toronto: Pump Your Troubles Away
It's difficult to know what's happening in your home's basement, but just imagine having to keep up with what's happening beneath it. When rainwater is stored inside the soil around your foundation, it raises the water table, which results in hydrostatic pressure. The hydrostatic pressure causes cracks in your basement that can let the water inside your basement through the walls and the floor. Building concrete below grade could be troublesome without a proper sump pump waterproofing strategy or sump pump system in mind. During heavy rain, your home's weeping tile system alone cannot function properly as the amount of water can be overwhelming for it to drain away, which results in water entering the basement. This issue can be solved by installing a Sump pump to water out of the basement.
What Is A Sump Pump ?
The sump pump is a device used to pump away water underneath your basement floor, away from your home's foundation. A sump is a pit dug at the lowest point of your basement, also known as a sump basin. Install a sump pump inside the basin. Water either flows through drains or gets naturally migrated through the soil and is collected in the sump pit. When a certain amount of water is collected in the sump pit, the pump starts on its own, signaled by the sensors and starts to pump away the water through a discharge pipe away from your house's foundation. This way, your basement keeps dry from underneath, and numerous water-related issues can be solved this way. If you want peace of mind, you need a backup sump pump to ensure your basement stays dry, no matter what. Stay dry and fearless from your house's basement water-related worries by choosing our sump pump installation in Toronto.
Why Install A Sump Pump?
Your house is a labor of love and wise investment to ensure your home stays protected and strong by installing a sump pump. Peace of mind comes with installing a reliable sump pump, assuring protection during wet seasons and extreme weather. If you live in a region where it rains the heaviest or has dense snowfall, sump pumps divert the excess water to prevent flooding and damage. They add property value, especially in flood-prone regions, boosting appeal to potential buyers and resale prices. By averting water accumulation, they maintain structural integrity, reducing foundation cracks and shifting. It prevents water damage, lowering the chance of costly repairs and harm.
In addition, these pumps create a drier environment, curbing fungus and mildew growth and protecting both property and occupants. Customizable in types and sizes, they fit property needs, some with battery backups for power outages. While there's an upfront cost, sump pumps save long-term repair expenses and health risks.
In summary, installing a sump pump provides a comprehensive solution to mitigate water accumulation and its associated risks, offering protection, peace of mind, and potential savings in the long run.
Sump Pump Installation & Repair Experts in Toronto
GJ MacRae is a complete basement waterproofing and foundation repair company in Toronto. We provide a wide range of services, including installation and repair services of sump pumps. We are family owned and operated since 1975 and have carried out 10,000+ waterproofing projects. A basement can be completely dry and protected from basement flooding only if it is waterproofed from every possible angle. Areas with a high water table require additional sump pumps waterproofing methods to keep the basement dry from water rising from the floor. A sump pump can be the ideal solution for such areas.
GJ MacRae Foundation Repair has been providing Sump Pump Installation services for the last five decades and delivered dry basements to customers. Installing a sump pump is not something you do every year, and you would definitely want a sump pump installation in Toronto from expert like GJ MacRae to carry out that job. At times, electricity issues can arise, making it wise to have a battery backup sump pump to address such problems effectively. We take special consideration while selecting the suitable pump and basin size considering the depth of your basement, the drainage area and the distance the water needs to be pumped away from home. GJ MacRae knows the value of a dry basement and guarantees to deliver one. Feel free to contact us if you are looking for any basement waterproofing or foundation repair service.
Sump Pump Installation Process
GJ MacRae likes to do everything with detail and precision. When you hire us, it is our duty to deliver you with quality results. During the basement sump pump installation process, our technicians will arrive at the site and inspect your basement situation. We will clean out the area, choose the location suitable for installing the pump, and start excavation. A hole of appropriate size to the sump basin is dug, and gravel is poured into the hole. The basin is then set inside the sump pit and surrounded with gravel. The weeping tile system is then connected to the sump basin to collect water.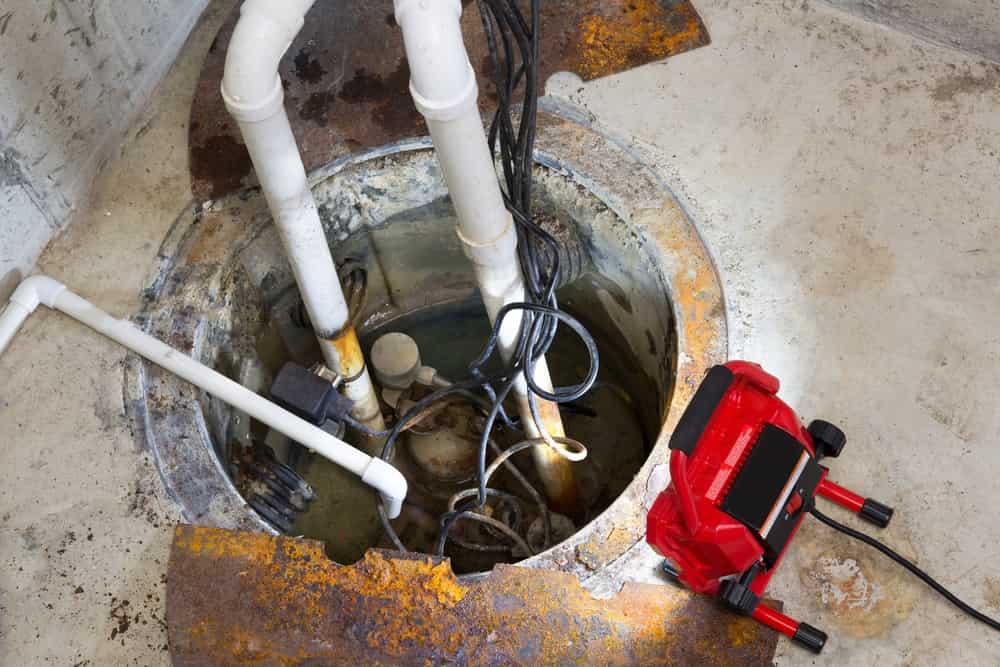 The pump is now fitted inside the sump basin. Choosing the right pump depends upon various factors. We always recommend using an oil-cooled submersible pump. It is a little expensive but much more cost-effective in the long run. Then an outlet pipe is connected from the pump to the outside of your basement walls, diverting water away from your foundations. The outlet pipe must have a one-way check valve to prevent the backflow of water to the basin. After all this is done, we pour water into the basin and check the pump. After everything is working correctly, the basin cover is put on, and the process of installing the sump pump is completed.
Frequently Asked Questions:
GJ MacRae is a complete basement waterproofing and foundation repair company in Toronto. We provide a wide range of services, including sump pump installation and repair services. We hold the leading position among sump pump installers in Toronto. As a local, family-owned business, we take great pride in serving our customers. We have been operating since 1975 and have had the privilege to serve over 10,000+ customers.
As a complete basement waterproofing company with almost five decades of experience, we can guarantee a perfect job during your sump pump installation service in Toronto. We always use the highest-quality materials to ensure quality output and longevity. We allot great attention to detail when choosing the right excavation spot and the best sump pump that suits your needs. We serve the Greater Toronto Area, Hamilton, Etobicoke, Mississauga, Toronto, Oakville, Burlington, Milton, Georgetown and other surrounding areas. Our work is always of the highest quality, and we back it up with a transferable 15-year warranty. We have received thousands of positive reviews across HGTV and Homestars, and they speak for themselves.
A Word from Our Customers
Industry-leading GJ MacRae Waterproofing Services
GJ MacRae Foundation Repair provides customers with top-notch services in foundation repair in Toronto. There are various Waterproofing Services available such as Basement Waterproofing, Interior/Exterior Weeping Tile Systems, Sump Pumps Installation, Crack repair, etc. Over 48 years of experience and 10,000+ satisfied customers from Toronto, our licensed specialists are completely confident that we can guarantee the best results with the most reasonable price and warranty for each type of project request.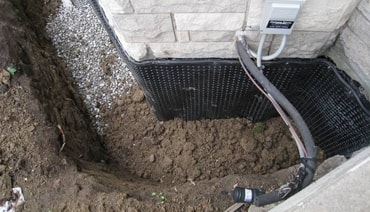 We specialize in basement waterproofing services for below grade concrete block, poured concrete, field stone, and rubble stone foundation walls. With over 48 years of service in the GTA and backed by the most reliable warranty in the business, see what the GJ MacRae difference is all about.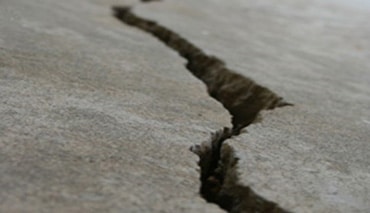 Foundation Crack Repair Toronto
Is there a crack in your poured, block, or rubble stone foundation wall, and is this crack allowing water to leak into your basement? Why do interior crack repair methods simply not work? Trust the experts and see why GJ MacRae Foundation Repair carries the most reliable crack repair warranty in the business.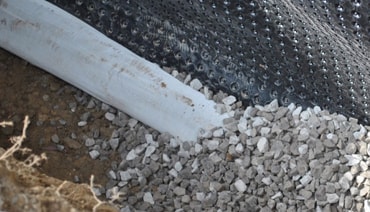 Weeping Tile Systems Toronto
A century-old technology, reborn! Our services also include interior and exterior weeping tile systems coupled with deep insights and experience relating to all things drainage. Ask us about the difference between interior and exterior drainage methods and enjoy the benefit of our expertise!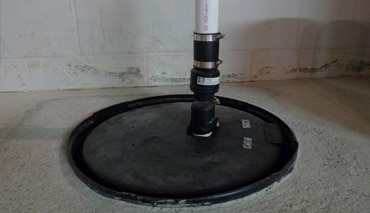 Sump Pumps Toronto
Sump pumps and sump basins are an integral part of all below grade drainage strategies due to their simplicity, reliability, low cost and proven effectiveness. Ensure your sump pump, basin and battery backup system are well maintained and ready for the next big rain or thaw.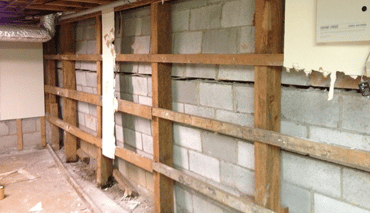 Structural Wall Repairs Toronto
Is the structure of your home moving and is this movement accelerating as the years pass? The sooner the integrity of your foundation is restored, the better. We have a full line of time-tested, certified structural foundation repair solutions tailored to your scope and budget.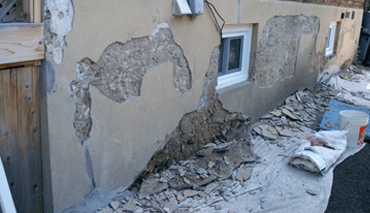 Crumbling Foundations Toronto
Are your foundation walls spalling, eroding or fragmenting? Is this damage accelerating through the years? Stopping moisture penetration through your above grade concrete structure is imperative. We offer brush parging, s-type, adhesive, mesh, fiber and thermal-slurry solutions for a lasting barrier.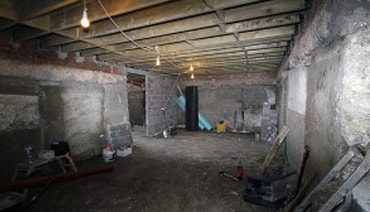 Basement Underpinning Toronto
GJ MacRae are pioneers of the overflow underpinning method in the Greater Toronto Area. Our underpinning process allows for safe, reliable vertical increases in basement ceiling height that can turn crawl spaces into full living quarters; and all for less than a standard second story addition.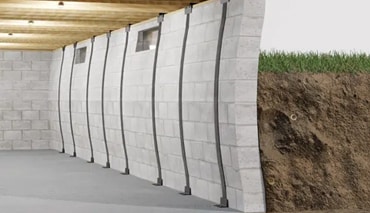 Structural Carbon Fiber Toronto
When your foundation walls begin to show signs of cracking or bowing it is generally an indication of severe exterior lateral pressure from tree roots, hydrostatics or poorly draining soil. Click here to find out more about our full line of carbon fiber foundation reinforcement applications.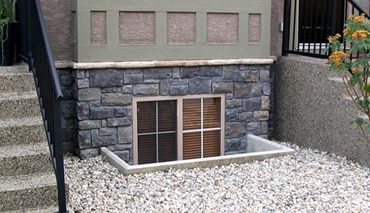 Window Wells Toronto
Basement windows are a great source of natural light and can also act as a designated fire escape, but what happens when window wells begin to deteriorate, clog and leak? Our hand excavated exterior window well repair solutions are permanent and allow for unimpeded drainage all year long, guaranteed.
Sump Pump Installation for a Dry Basement
Sump pumps are a great way to keep your basement dry. An excellent drainage system, like a weeping tile system, when partnered with a sump pump, helps to keep your basement dry. Divert away all the water beneath your basement away from your foundation and save thousands of dollars in sump pump repairs.
Need a sump pump installed or repaired? Contact GJ MacRae, the finest sump pump installation contractor in Toronto. Give us a call or fill out the form below and our team will inspect your basement and provide you with an ideal solution for a sump pump installation. Feel free to contact us at (905) 824-2557 or fill out the form below.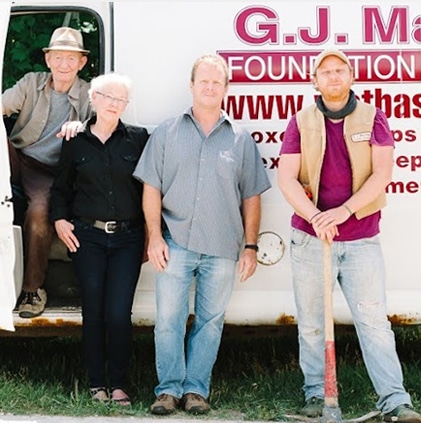 Frequently Asked Questions:
Schedule A Visit With Us Now!
After you fill out the form below, we will contact you as soon as possible for A FREE ESTIMATE. If you still have any questions, feel free to contact us anytime.