Interior Basement Waterproofing Services
by GJ MacRae
"Quality is doing things right when no one is looking." – Henry Ford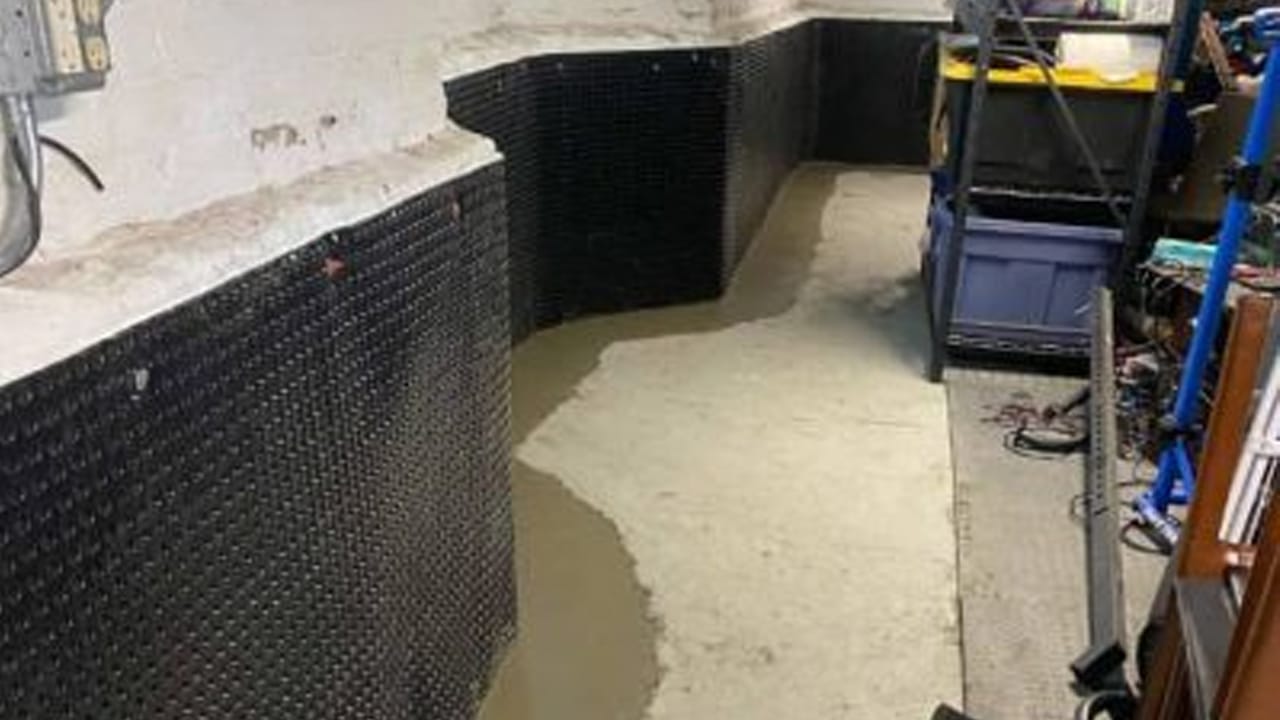 Interior Basement Waterproofing Services in Toronto
How often are you in your basement? Other than doing laundry or throwing some items in storage you probably don't go in the basement a lot. That just says how little importance we give to our basements. Without even living up to their full potentials, basements are being heavily underused. What if we told you that you can do a lot more with your basement rather than it just being a crawlspace or a laundry room. Water seepage, mould and mildew growing everywhere, musty damp smell, water flooding in during rains, and even possible pest infestation. The reason for all this? WATER LEAKAGE! This situation arises due to insufficient interior basement waterproofing, resulting in water entering through cracks in your foundation walls, and demanding basement leak repair. 
GJ MacRae is an interior basement waterproofing company in Toronto and we have been providing basement waterproofing and foundation repair services for almost five decades. We are a complete basement waterproofing contractors and foundation repair company that provides a total solution for a leaky basement and a crumbling foundation. We serve Toronto and surrounding areas and have been working for decades to deliver you a dry and leak proof basement. 
The Interior Basement Wall Leakage Problem
Many of us face problems during the rainy season when our basements start to flood. When the rain starts to collect around the house it starts to enter the soil and then into the basement through the foundation walls. Over the years, if left untreated, these basement walls start to develop cracks and small holes in them and the excess moisture and water from the rain starts entering our basement. Since the walls are porous and there is nothing to stop the water, your entire basement is now damp. And there are numerous problems that arise with a damp basement. Your walls start growing mould and mildew and badly deteriorate the air quality. Your walls start getting more cracks and with excess rain water entering the basement, you might have to bid farewell to your valuable items. On top of that, if this continues for some time, it can really start to damage the foundation walls and risk the entire structural integrity of your house.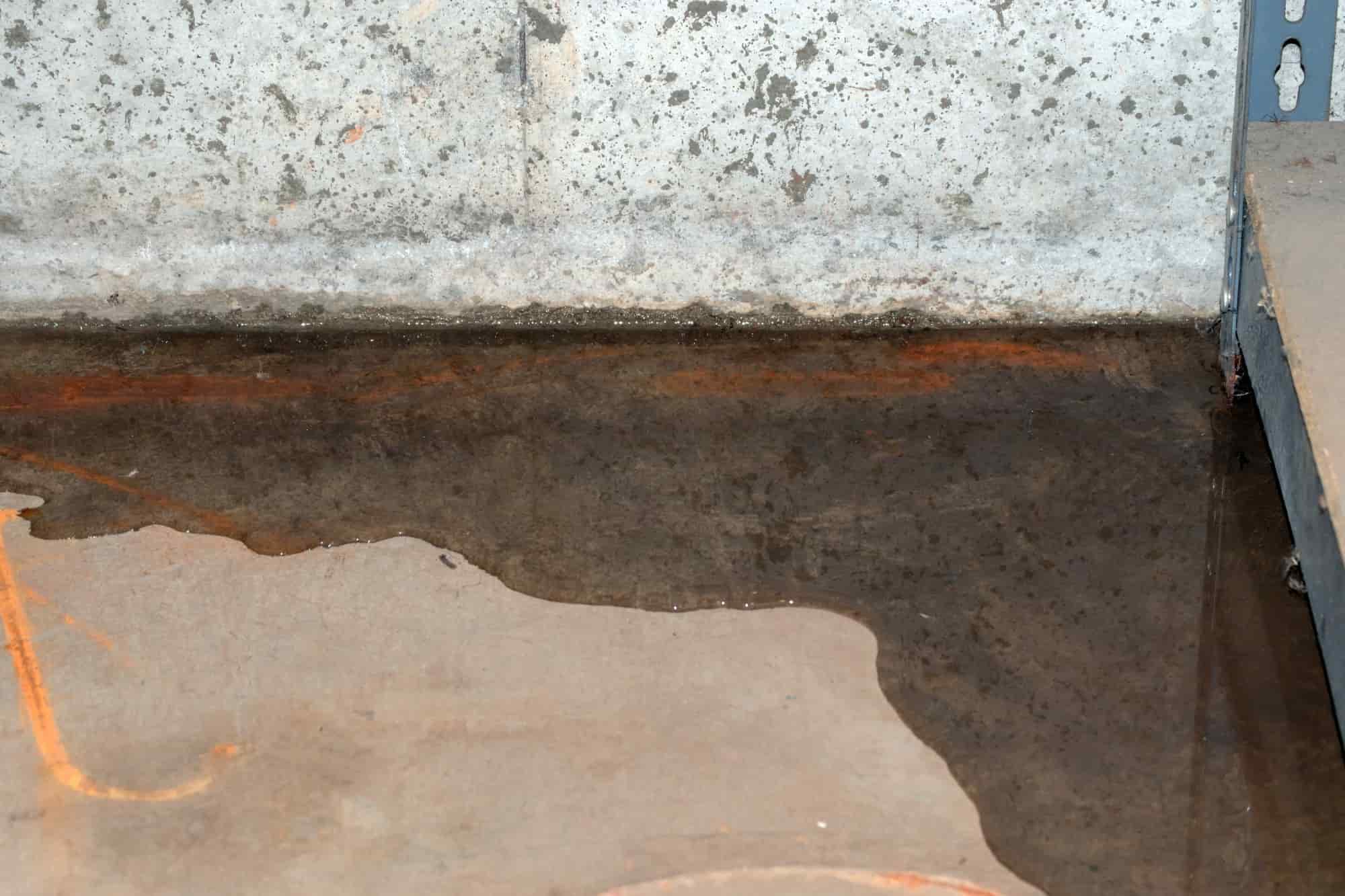 That's where we come in. We are a complete basement waterproofing company in Toronto and have been providing interior basement waterproofing services for the last 50 years. Interior basement waterproofing means that your basement remains dry, and you no longer have to face water seepage and leaking problems. Our highly effective interior basement waterproofing methods are backed by our experienced staff to give your basement another life by fully waterproofing it. Why keep a wet and musty basement when you can have a dry and leak-proof basement that is usable? Get affordable wet basement waterproofing services in Toronto by GJ MacRae. 
Interior Basement Waterproofing Strategies: Prevention of Interior Basement Wall Leakage
Effective Sealing: Apply waterproof coatings or sealants to basement walls to create a barrier against moisture intrusion.
Proper Drainage: Ensure efficient exterior and interior drainage systems to divert water out from the foundation.
Sump Pump Installation: Install a sump pump to collect and discharge water accumulating in the basement.
Gutter Maintenance: Regularly clean and maintain gutters and downspouts (Gutter Outlets/ Rainwater Pipes) to prevent water from pooling near the foundation.
Landscaping Adjustments: Grade the soil away from the foundation and consider using plants that help absorb excess moisture.
Foundation Repairs: Quickly address any cracks or gaps in the foundation walls or structure to prevent water from seeping in.
Window and Door Sealing: Seal gaps around windows and doors to prevent water infiltration during heavy rainfall.
Interior Waterproofing Systems: Install interior drainage systems and vapor barriers to manage moisture within the basement.
Regular Inspections: Conduct routine checks for leaks, cracks, and signs of water damage to address issues early.
Ventilation: Improve air circulation with proper basement ventilation to reduce humidity and moisture buildup.
Combining these approaches allows you to establish a complete shield against leaks in your interior basement walls. If these strategies prove insufficient, don't hesitate to contact GJ MacRae for professional interior basement waterproofing in Toronto.
Benefits of Interior Basement Waterproofing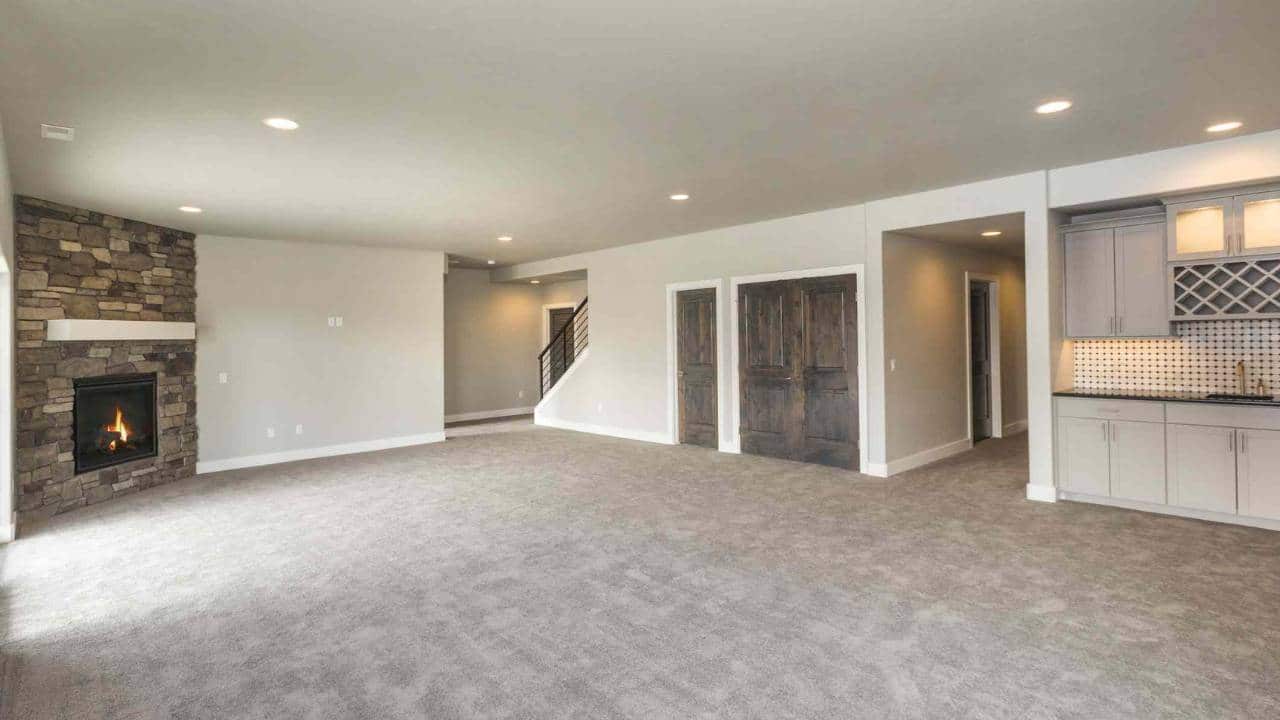 It goes without saying how important it is to waterproof your basement. We have years of experience in this field as a basement waterproofing company. Here are some major benefits of waterproofing the basement from the inside.
Enjoy a Dry Basement
Interior Waterproofing your basement means that you now have leak proof and dry basement walls. Doesn't matter how much it rains outside, your walls are now sealed and water cannot enter your basement walls. Without waterproofed walls, your basement would flood heavily during rains and damage all the valuables in the basement. Hence, interior basement waterproofing allows you to enjoy a leak proof and dry basement. 
No More Mould and Mildew
Places that are damp and wet, invite mould and mildew and this is not a good combination! This invites various health hazards and poor air quality. A basement is a place that is poorly ventilated and on top of that, to have mold all over the walls is the worst thing you can ask for. But, with interior basement waterproofing, you get dry and leakproof walls. So, you no longer have to worry about mold or mildew over your walls.
More Usable Space
Having a dry basement means that you have now more usable space. Most basements are used just as laundry rooms and for storage and not much else. But a dry basement means that you can use the basement as your store room, gameroom, or a bedroom. If your basement isn't tall enough, you can opt for basement underpinning for more headroom and a refreshed space!
Stronger Foundation Structural Integrity
Continuous hydrostatic pressure from outside can really affect the foundation's structural integrity. Due to the pressure, the walls move in and out and that can cause the cracks to increase. All this can be avoided if you can keep your basement walls dry and leakproof. Properly sealing your foundation cracks and applying interior basement waterproofing systems will ensure that your walls are safe and strong from any kind of damage imposed by water. Having dry foundation walls means that the foundation's structure is maintained. 
Higher Property Value
Getting a property with a large usable basement that is dry is what every property buyer is looking for. Everyone loves more space in their house and most buyers are willing to pay extra for houses with such features. Having a dry basement means that the space is now usable and hence a good selling feature for your home. So if you invest in waterproofing your basement, you not only enjoy the basement while you live in the home but also get good returns when you are trying to sell. 
Tired of Dealing with Basement Wall Leaks? Find the Solution with Gj MacRae's Expert interior basement waterproofing in Toronto!
Our Interior Basement Waterproofing Process
Frequently Asked Questions:
GJ MacRae Foundation Repair proudly presents almost five decades of exceptional expertise in interior basement waterproofing in Toronto. We provide the best waterproofing solutions for your house basement and ensure they remain dry and leakproof for the long run! As one of Toronto's best interior basement waterproofing solutions companies, we set the benchmark for quality. The expertise of our staff in waterproofing basements from the inside, combined with modern interior methods, ensures that your foundation walls remain free from moisture. As a completely family-owned business, we are now in our second generation and have served over 10,000+ customers to date. Our quality work and professionalism have led us to feature in Homestars, HGTV, and Google Guaranteed. 
We offer complete coverage of services, including exterior and interior basement leak repair in Toronto, structural foundation repair, french drain installation, weeping tile system installation, sump pump installation, underpinning, window wells installation, and complete structural foundation repair service.
A Word from Our Customers
Industry-leading GJ MacRae Waterproofing Services
GJ MacRae Foundation Repair provides customers with top-notch basement waterproofing services in Toronto. There are various Waterproofing Services available such as Basement Waterproofing, Interior/Exterior Weeping Tile Systems, Sump Pumps Installation, Crack repair, etc. Over 48 years of experience and 10,000+ satisfied customers from Toronto, our licensed specialists are completely confident that we can guarantee the best results with the most reasonable price and warranty for each type of project request.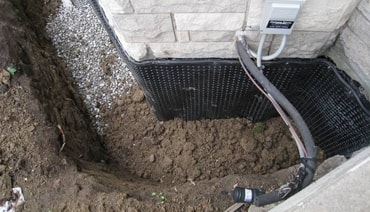 We specialize in basement waterproofing services for below grade concrete block, poured concrete, field stone, and rubble stone foundation walls. With over 48 years of service in the GTA and backed by the most reliable warranty in the business, see what the GJ MacRae difference is all about.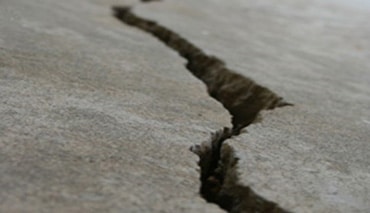 Foundation Crack Repair Toronto
Is there a crack in your poured, block, or rubble stone foundation wall, and is this crack allowing water to leak into your basement? Why do interior crack repair methods simply not work? Trust the experts and see why GJ MacRae Foundation Repair carries the most reliable crack repair warranty in the business.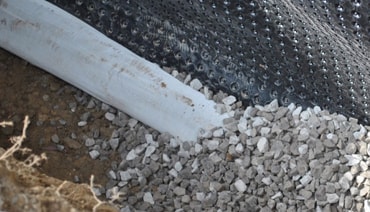 Weeping Tile Systems Toronto
A century-old technology, reborn! Our services also include interior and exterior weeping tile systems coupled with deep insights and experience relating to all things drainage. Ask us about the difference between interior and exterior drainage methods and enjoy the benefit of our expertise!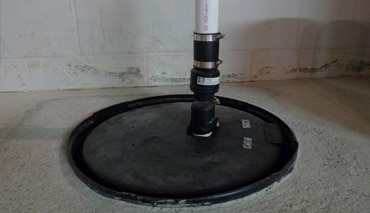 Sump Pumps Toronto
Sump pumps and sump basins are an integral part of all below grade drainage strategies due to their simplicity, reliability, low cost and proven effectiveness. Ensure your sump pump, basin and battery backup system are well maintained and ready for the next big rain or thaw.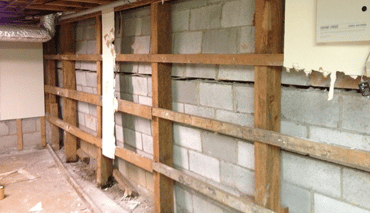 Structural Wall Repairs Toronto
Is the structure of your home moving and is this movement accelerating as the years pass? The sooner the integrity of your foundation is restored, the better. We have a full line of time-tested, certified structural foundation repair solutions tailored to your scope and budget.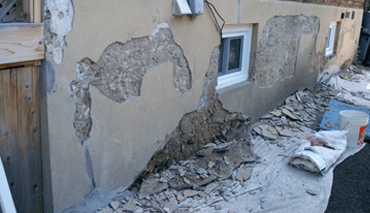 Crumbling Foundations Toronto
Are your foundation walls spalling, eroding or fragmenting? Is this damage accelerating through the years? Stopping moisture penetration through your above grade concrete structure is imperative. We offer brush parging, s-type, adhesive, mesh, fiber and thermal-slurry solutions for a lasting barrier.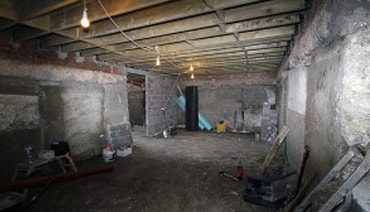 Basement Underpinning Toronto
GJ MacRae are pioneers of the overflow underpinning method in the Greater Toronto Area. Our underpinning process allows for safe, reliable vertical increases in basement ceiling height that can turn crawl spaces into full living quarters; and all for less than a standard second story addition.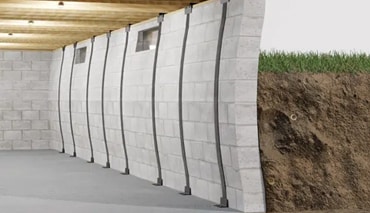 Structural Carbon Fiber Toronto
When your foundation walls begin to show signs of cracking or bowing it is generally an indication of severe exterior lateral pressure from tree roots, hydrostatics or poorly draining soil. Click here to find out more about our full line of carbon fiber foundation reinforcement applications.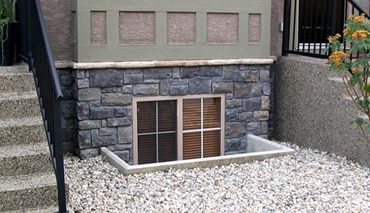 Window Wells Toronto
Basement windows are a great source of natural light and can also act as a designated fire escape, but what happens when window wells begin to deteriorate, clog and leak? Our hand excavated exterior window well repair solutions are permanent and allow for unimpeded drainage all year long, guaranteed.
Need Interior Basement Waterproofing in Toronto?
Nobody likes a leaky basement and we have the perfect solution for that. Having over 48 years of experience in the basement waterproofing industry, we are the ideal team for your house's interior basement waterproofing in Toronto. If you are someone who is suffering from a leaky basement and cant stand that musty smell from your basement, give us a call right away. 
We provide basement waterproofing services in Toronto and other surrounding areas like Oakville, Mississauga, Burlington, Hamilton, Milton, and Georgetown. We provide services all year round. For more information, give us a call at (905) 824-2557. Or, you Fill out the form below and we will respond to your inquiries at the earliest.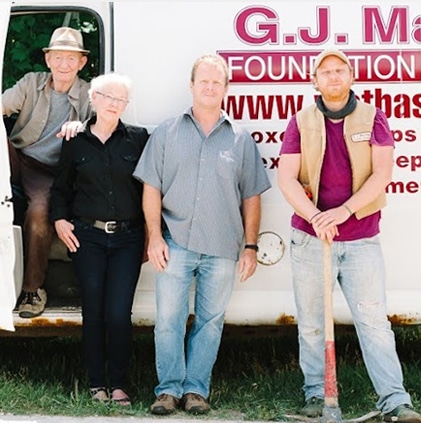 Frequently Asked Questions:
Schedule A Visit With Us Now!
After you fill out the form below, we will contact you as soon as possible for A FREE ESTIMATE. If you still have any questions, feel free to contact us anytime.