Toronto's structural clarity in a sea of confusion.
How to Make Your Small Basement Look Brighter
December 26, 2019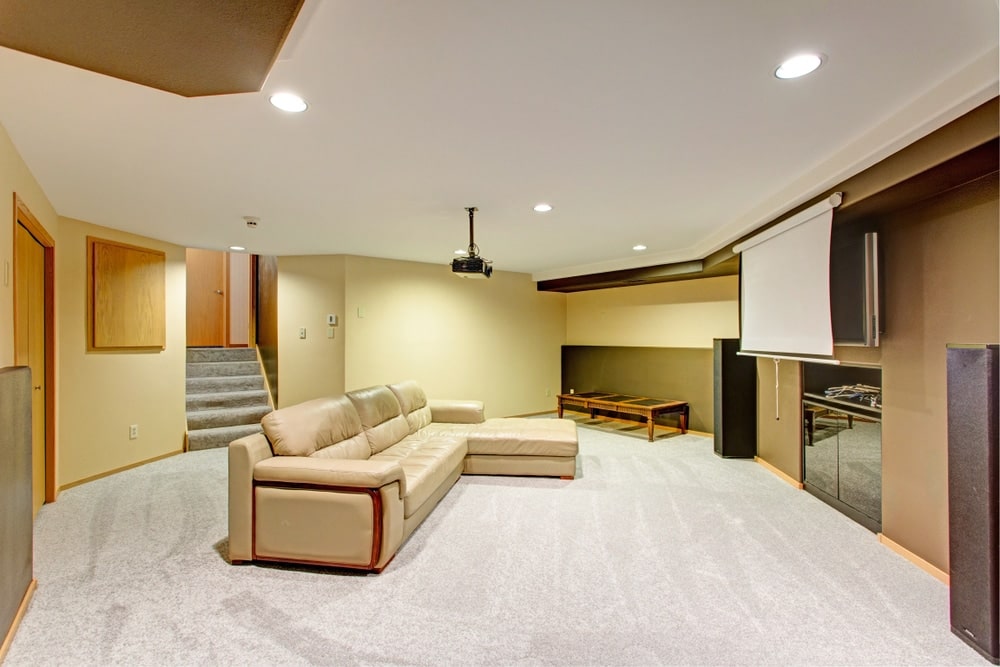 Do you need extra space in your home? Are you thinking about renovating your basement to add extra square footage? Basement renovations are a very popular choice for families that are looking to add more usable space to their home. Renovating your basement is much more affordable than putting an addition on your home, even if you choose the underpinning route! Many people think that their basement are too small or too dark to ever be a nice place to relax. That is not the case! Keep reading to learn how you can make your small basement look brighter!
Glass Doors and Mirrors
In order to make your basement brighter, there has to be more light! Often times basements, even after being renovated, have many walls, posts, or other objects that cannot be eliminated due to their role in supporting the structure of your home. A good way to still allow light into every room in your basement is by installing glass doors and mirrors. These doors will allow light to enter the rooms and the mirrors will help reflect the light that enters so that it is able to fill every space.
Light Flooring
Another great way to make your small basement look brighter is by installing light coloured flooring. Whether you want to install pine wood flooring, light coloured tiles, or a light carpet, no matter the material, if the flooring is light the room will look brighter! We also suggest choosing a floor that is reflective or shiny. These types of floors will reflect light, like the above listed mirrors, which will make your basement even brighter.
Plants
Want to brighten up your small and dark basement? Add some plants! Plants are a great way to bring the outside in and add some freshness to your basement. If you're trying to brighten your basement, we also suggest that you make sure that your garden and shrubs outside your basement windows are trimmed. Even if they are thin, anything that is placed in front of a basement window can stop light from entering the basement.
Pictures
Many people use photographs to brighten up their small and dark basements. If you're looking to brighten up your space, adding some photographs of the outdoors can really help. This way, even if you can't see the beauty of nature from your basement window, you can experience it from a picture. We suggest choosing photos that have lots of sunlight and light colours in them so that it seems like the sun is always shining in your basement!
Neutrals
There are so many design tactics that can help you lighten up your small and dark basement. One of the most common ways is by filling the space with neutral colours. When you choose to fill your basement with bold colours, the accents may look nice, but the room can look much smaller than it is. By filling the room with neutral colours, such as grey and white, you can make the walls look taller, the ceiling higher, and the room bigger overall! This neutral movement can also transfer to the furniture, light fixtures, and all other accessories too. There's also no need to worry about new items matching when you choose a neutral pallet for everything in your basement!
Open Concept
If you're looking to make your basement brighter then opting for an open concept is a great idea. Having an open concept basement means that your basement will have less walls to stop the light from entering specific areas. The light from the windows will hit every inch of your basement making the room brighter and easier to enjoy! Even though there won't be walls separating the space, you can still divide the area by placing furniture in certain areas. A couch in one space can be the living room and a table in another can be the dining area.
Windows
Another great way to add light to your basement is by adding additional windows to the space. Additional windows are a great alternative to turning your basement into a complete open concept. They will let more natural light into your basement which will help make it feel more like a space you want to spend time in. If adding additional windows isn't an option, speak to the experts at GJ MacRae about enlarging the windows that you already have. This can mean more natural light which will make your basement brighter and a space you'll love to spend time in.
Lighting
One of the simplest ways to make your basement feel brighter is by adding lights! There are many different types of lights that you can add to your basement. From pot lights to lamps, ceiling fixtures to chandeliers, you can make sure that every room in your home is bright, unless you don't want it to be!
Why Choose Us?
There are many different reasons why you should choose GJ MacRae for all of your basement repair and basement renovation needs.
The GJ MacRae Difference
If you're looking to transform your basement into a bright area that you can enjoy, contact the experts at GJ MacRae. Our team has been servicing the Greater Toronto Area and their basements for over 40 years! We are the industry leaders in all phases of below-grade waterproofing, structural foundation repair, underpinning and heritage foundation restoration.
Our Warranty
Our jobs also come with a 15-year transferable warranty – that is unheard of in this industry! This warranty means that if you have an issue with your basement repair in the next 15 years, we will fix it – even if you're no longer living in the home! This warranty provides you with peace of mind and also with a great resale value.
Contact Us
Contact our team today if you'd like to learn more about what we can do for your basement. Our team is the only active family-owned and operated basement waterproofing and underpinning company in the Greater Toronto Area. We know basements and we can help you!