Toronto's structural clarity in a sea of confusion.
My Basement Need Waterproofing, What Next?
September 30, 2019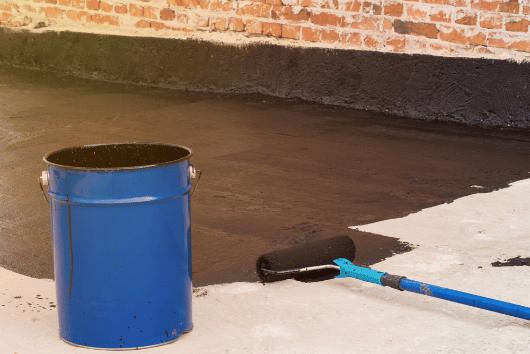 Owning a home means being responsible for any issues that may arise. From the roof to the foundation, being able to spot a problem before it becomes catastrophic is a necessary skill. Being proactive with issues in your home can help keep you, your home, and your family protected. Many homeowners don't know how to tell if there's a problem with their basement until it is already flooded. This blog will help show you 7 different signs that your basement is in need of waterproofing!
Signs of Water Damage
The first sign that your basement needs waterproofing is when you see signs of water damage. If you notice puddles, damp spots, cracks, bowing, peeling pain, or warped paneling in your basement, it usually means water has already entered your home.
A great way to determine if your home has a crack or a leak is to regularly inspect your foundation. You don't have to inspect it everyday, but we suggest checking monthly and after a hard rain. Is your basement finished? You can still check for moisture by lifting up carpet or pulling back paneling! If you discover moisture, contact the experts at GJ MacRae!
The Solution
If you have found moisture in your basement, there are several different options available for waterproofing your basement. The situation will determine which solution is the best to use on your foundation. Some things that can cause water to enter your basement include:
If you're not sure which is right, ask the experts! The team at GJ MacRae has been repairing foundations for decades, so they know how to keep a basement dry!
The Process
If your basement needs waterproofing, then you have several decisions and factors to consider. The size of the project will influence the amount of disruption, the time it will take to complete the project, the cost of the repair, and more. Although repairing your foundation may seem like a pain, the benefit fair outweighs the inconvenience.
Disruption
Many people worry about the disruption that having their foundation repaired will result in. Luckily, many waterproofing methods that are used today are much less invasive than in the past. Basement foundation experts utilize technology and their experience to diagnose the issue with the least amount of disruption possible. In some cases, excavation needs to be completed. The team at GJ MacRae however, uses hand excavation! This means that they won't destroy your landscaping and will leave your home looking the way they found it!
Time to Complete
An important part of choosing to have your basement foundation repaired is to decide on timing. There are two important timing aspects:
How long will the project take to complete?
Is this a good time for you to have a massive project begin in your home?
We know that having your foundation repaired is not a fun task, but if you wait for the right and convenient time, it may be too late. A little disruption and a cancelled dinner party is better than coming home to your belongings floating in a lake in your basement!
Cost of Repairing: Now VS Later
Some basement leaks are small and slow. Many homeowners notice these small leaks but decide to wait to hire a basement foundation repair company. We're here to tell you – DON'T WAIT! A small leak or crack can be a minor fix that doesn't hurt your wallet, but the longer you wait, the bigger the issue will become, and the more expensive the fix will be! By leaving a small issue, bigger issues can arise, such as:
All items in a finished basement can be destroyed, including drywall and flooring
Cracks and moisture can attract insects
Your homes structural integrity can be compromised
Water can enter dangerous areas such as electrical panels and furnaces
Your home can develop mold
All of these issues will result in money coming out of your pocket. They can also result in the value of your home dropping significantly! If you notice a small problem area in your basement, call the experts to avoid disaster!
Inside or Outside
When you decide to repair your basement foundation, you must decide which method of waterproofing you'd like to use. Water often enters a basement because of water pressure building up on the exterior foundation walls. The way to fix this is by having fresh weeping tile installed on the inside or outside of your foundation wall. This decision is up to the homeowner! If you have a beautifully finished basement, exterior weeping tile may be best. If you have an unfinished basement and lovely landscaping outside, interior weeping tile may potentially be a better idea. Every situation is unique though, so when the time comes, our team will help you make a decision that is best for your basement foundation!
The Future
When you are deciding which method of waterproofing to use, it is important to consider how you plan to use the basement in the future.
Do you want to finish the entire basement?
Are you going to convert the basement into an in-law suite or rental space?
Has the area been finished before but sustained water damage?
Are you planning to move soon or do you plan on staying in the home for a substantial time period?
The answers to all of these questions will help you determine how far you want to take your basement waterproofing. If you're planning on finishing the basement, or having tenants, extra waterproofing precautions are a great idea and investment!
Also learn, Interior Basement Waterproofing
Do I Need To Hire an Expert?
The simple answer is YES. Although some waterproofing tasks may seem easy enough to do yourself, the risk is not worth the savings. Foundation repair and waterproofing is about more than just a bit of water entering your home. Leaks can cause your foundation to crumble and your home to become an unsafe space to live in. Quick and cheap DIY repairs can cost you thousands of dollars later on if they aren't completed properly, and 're-doing' foundation repairs can be almost next to impossible. We suggest you contact the experts at GJ MacRae to help waterproof your home in the Greater Toronto Area.
The GJ MacRae Difference
The team at GJ MacRae work hard to provide you with the best basement waterproofing in the Greater Toronto Area. If you have a leak in your basement, contact us today! Our team will come assess the situation and help guide you through the entire process.