Toronto's structural clarity in a sea of confusion.
Bench Pinning Vs. Underpinning: 101
June 15, 2018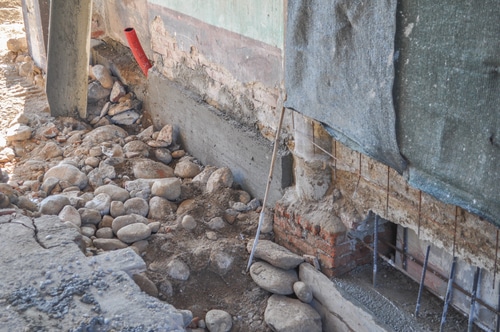 Are you thinking about renovating your home? There are many things that you can do to your home to make it more livable and also increase the value of the home. But have you ever thought about increasing the square footage of your home? This way you can gain the room you desire without having to find a new home to move into. This is not a small task but it can be very beneficial and it can be achieved by bench pinning and underpinning.
Bench Pinning and Underpinning
There are other ways to gain more square footage in your home such as adding an addition on the back. This however involves many different permits as well as taking up more space on the property and therefore paying more property taxes. Underpinning is a way to gain more square footage without paying more in property taxes because you're building down and not out. Although these two tasks are often confused with one another, they are very different.
What is Bench Pinning?
Bench Pinning is a way to add ceiling height to your current basement. Doing this can add value and space to your current home. In this method a team of experts will not touch the existing footing or soil. What they will do instead is add a foot of width to the bench for every foot that they dig down. This means that if you are dropping the floor by 16" you will have a 16" wide bench along the new wall. This will influence the final design of the basement, but bench pinning is a less expensive option to gain space in your home. There are many different ways that you can work the bench into your design such as custom seating or cabinetry. If you truly do not want to see the bench, then you can opt for a combination of bench pinning and underpinning or decide to have your basement renovated solely using the underpinning method.
What is Underpinning?
Underpinning is a way to add more square footage to your current home by converting the basement into a livable space. When you decide to have your basement underpinned an engineer will plot off a plan that includes a series of holes that will be dug from below the footings of the home. The team will then excavate sections of the basement to a preplanned depth, and then place concrete in the openings. The team will then continue to do the same steps in different sections of the basement until the entire area has been excavated. This process is not simple or easy and it requires a team of experts to ensure that the foundation of the home remains intact and stable.
What is the Difference between Bench Pinning and Underpinning?
The difference between bench pinning and underpinning is that Bench Pinning does not involve digging below the existing footings. This means that bench pinning is more cost effective than underpinning. Bench Pinning also leaves a visible bench along the bottom of the new wall which some people find to be an eyesore or a hindrance to their design plans.
Who can Renovate my Basement?
It is important that when you decide to undergo any type of renovation that you hire an experienced and expert company. This is especially important when you decide to undergo a renovation that is as large as bench pinning or underpinning. These jobs are not small, and require a specific skill set and experience in order to be properly completed. If you're looking for a team of experts to give your home more space by bench pinning or underpinning, you should hire the experts at GJ MacRae.
Who is GJ MacRae?
GJ MacRae is the first and only basement waterproofing and structural foundation repair company that covers all waterproofing, underpinning, structure, and drainage related solutions. We have been in business for over 4 decades. During this time we have completed over 10,000 projects as we have continued to grow our list of services offered as well as our team of expertly trained staff. GJ MacRae is the best team for your project, whether you opt for bench pinning or underpinning.
At GJ MacRae, we offer many other services beyond basement underpinning and bench pinning to assist our clients. Some of these services include:
Hand Excavation
Basement Waterproofing
Crack Repair
Window Wells
Int/Ext Weeping Tiles
Sump Pumps
Structural Foundation Repairs
Crumbling Foundations
Window Enlargements
Brickwork and Parging
French Drains and Drywells
Eavestrough Maintenance
If you have any questions about the services that we offer, call us or visit our website. Our team of experts will be happy to assist you.
What is the GJ MacRae Difference?
There are a lot of aspects that separate GJ MacRae from other foundation repair companies. For one, we are the only active family-owned and operated basement waterproofing and underpinning company in the GTA. This is something that we are extremely proud of.
Another perk that separates us from other basement waterproofing companies is our 15-year transferable warranty. Not only is our warranty longer than most companies, it is also transferable. This means that no matter who owns the house at the time, if the job we completed needs repairs, we'll be there! Many people think this warranty is a little too much, but we think it just shows how much faith we have in the sustainability and the quality of our work!
The biggest thing that separates GJ MacRae from the competition is that we care about what we do. We work hard to always provide our clients with the best service and results possible. Our longevity in the industry proves that!
If you decide to begin an underpinning or bench pinning renovation in your home, contact the experts at GJ MacRae. Our team is filled with experienced and educated people who can help you determine exactly what it is that you need to turn your home into your dream home. Have any questions? Call or visit us today to experience for yourself why GJ MacRae is the right choice for your basement renovation!