Toronto's structural clarity in a sea of confusion.
New Year's Renovations for Your Basement
December 12, 2017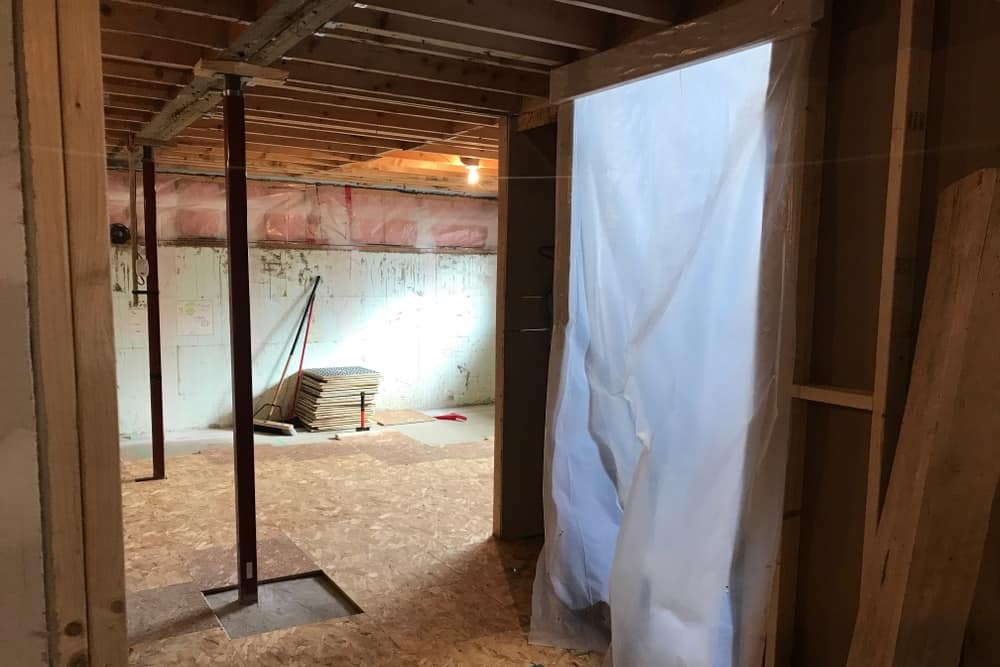 New year, new basement! If renovating your basement is on your New Year's Resolution list, we have you covered with different ideas to freshen up your current space. Every basement needs a reinventing and a great New Year's project should start from the ground up, with your basement.
If you're dealing with an unfinished basement, you have the advantage of starting from scratch and creating the space that you want. Whether it's a workspace, a play area, or a simple place to gather with your family and friends, you can create a spectacular space that meets any need.
A Multitude of Spaces
Playroom
If you have kids, the basement is the perfect space to turn into a big playroom where they can run around and play freely. Colour the room with bright blues, purples, greens, and even yellows. Make the colours soft and decorate the walls with your children's framed artwork. Set up the playroom with a large bin of toys in the centre and add a TV where they can watch their favourite shows and play games with their friends.
Sport Lounge
For the sports fanatics out there, dress up the basement with team jerseys and have them framed. Make sure you have a large TV so you don't miss any action. Design the room in a way that the large couches are all facing the TV in a C-shape for optimal enjoyment for everyone. Ensure this room has a wide open concept and install surround sound speakers. This could also work for movie lovers. Add exposed brick to the walls and use darker colours like green, red, and deep blues.
Art Space
Feeling artsy? Create a creative space for the art lover in your life by sectioning off a space that is strictly for making and designing art. Add a large industrial table for the layout of all the art utensils. Also, install shelves for more space and hang abstract artwork throughout the space to give it a little flare.
Office/Library
If you love an office environment and want a workspace away from distraction, create a separate office or library. Install a large shelving unit on one wall and add all of your books for decoration and display. Find an L shaped desk that will give you the ultimate workspace and install a second monitor for maximum productivity.
Extra Bedroom
You could also rent out your basement and design the space with a bedroom, bath, and mini kitchen. Many people choose to rent their basement space if they are not using it for extra income. If you're interested, think about redesigning your basement in a specific way to allow renters to enjoy living in that space.
Basement Features
Staircase
One part of the basement that homeowners may not pay enough attention to is the staircase. If the creaks and cracks have become more prominent over the years it may be time to fix them up before an accident occurs.
You must ask yourself, is it time to refinish the staircase or rebuild it? The condition of the staircase will help you make that decision. Don't forget to leave a little extra in your budget for either choice. Do the steps function properly? Are the steps wide enough? Are they easy to use? There are new regulations on staircase step dimensions. The tread size should be min 10 Ins./25.4 cm and the riser height max 7 ¾ Ins/19.7cm.
Don't forget about the railing style you want, too. You could go with the classic wooden railing, a straight square cut, a pipe, fence style, wired, or a very detailed and contemporary style rail. Choose one that fits the overall style that you're trying to achieve.
Windows
Windows are sometimes an overlooked feature of a basement, but they can make great additions and can be easily accessorized. Even if you don't have windows, hanging curtains can create the illusion of them. But if you do have windows, be sure to use colourful prints and patterns to add depth to the room. There are many varieties of shades that you could use. Shade styles include: light filtering, blackout, cellwood, shutters, etc.
Window placement is essential. If you're creating new windows, place two rectangular ones on each side of the wall, creating a central space for a fireplace with the possible addition of a wall television. This way, the room will be filled with natural light instead of using electricity.
Contrast by painting the window frames a completely different colour than the main theme. This makes a dramatic effect to the room and offsets the main colours to really make the windows stand out. Another suggestion would be to add artwork below the windows to make people perceive a larger window. This will open the room even more.
Bathroom
What's a nicely renovated basement without a bathroom? Basement bathrooms don't have to be a drag or look plain. This is your chance to give your basement that extra bit of class depending on the décor and theme you choose.
What types of sink will you choose? Will you have a full or half bath? Open or enclosed shower? Tile flooring or engineered wood or concrete. What kind of lighting will you choose? Pot lights, task lighting, lamps, decorative, ambient? There's many to choose from and each creates a different environment, look, and feel to the room.
Need more renovation ideas? Contact G.J. MacRae, your renovation specialists in the GTA, for more information or if you need assistance with any renovations!