Toronto's structural clarity in a sea of confusion.
Why Choose GJ Macrae?
April 26, 2018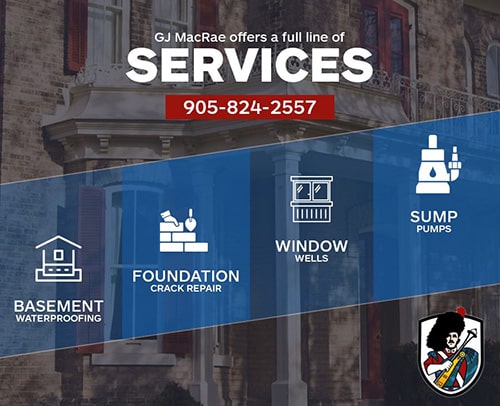 Are you looking for a basements repair specialist in the Greater Toronto Area? Look no further! Introducing GJ Macrae, your one-stop shop for all of your basement foundation repair and waterproofing needs!
About Us
As a homeowner, you probably don't think much about your basement staying dry or the state of your foundation… until it's too late. At GJ Macrae, we pride ourselves on our knowledge, experience, and longevity. Founded in the late 1970's, we were one of the first companies in the GTA to coin the term, "Foundation Repair". We were also one of the first foundation contractors to see the benefits of a dry and fully usable basement.
Why Choose Us?
We have completed over 10,000 projects over a span of over 40 years. With this much knowledge, insight, and experience on our hands, it's no wonder our clients trust us to keep their structures high and dry for years to come. With this being said, there is no one in the GTA that is more qualified than us to help you protect your home and its foundation. Learn why you should choose us to get the job done!
At GJ Macrae we…
Are Experts At What We Do
We believe in specialization. Our team is full of dedicated and experienced experts that will not only get the job done, but we do so in a timely manner and with top-quality results.
Have Years of Experience With Meticulous Hand Excavation
We specialize in residential hand excavation! Tight access projects are no challenge for us. We will do whatever it takes to get your grounds back to the original state they were in.
Are Family Owned and Operated
We have been around for years and our work is widely recognized throughout the GTA. In addition, we are the only active family owned and operated underpinning and basement waterproofing business in the area.
Are Known As The Information People
Our clients referred to us as the "Information People." When it comes to sump pumps, weeping tiles, waterproofing, underpinning, and structural and foundation repair, do not hesitate to contact us for any related inquiries or to receive expert advice.
If you or someone you know is looking for a full-service basement waterproofing and structural repair specialist in the GTA, be sure to contact GJ Macrae today. Visit our website to learn more of call us at (905)-824-2557 for a FREE consultation.