Eavestrough Installation and Repair
by GJ MacRae
"Success is a journey, not a destination. The doing is often more important than the outcome." – Arthur Ashe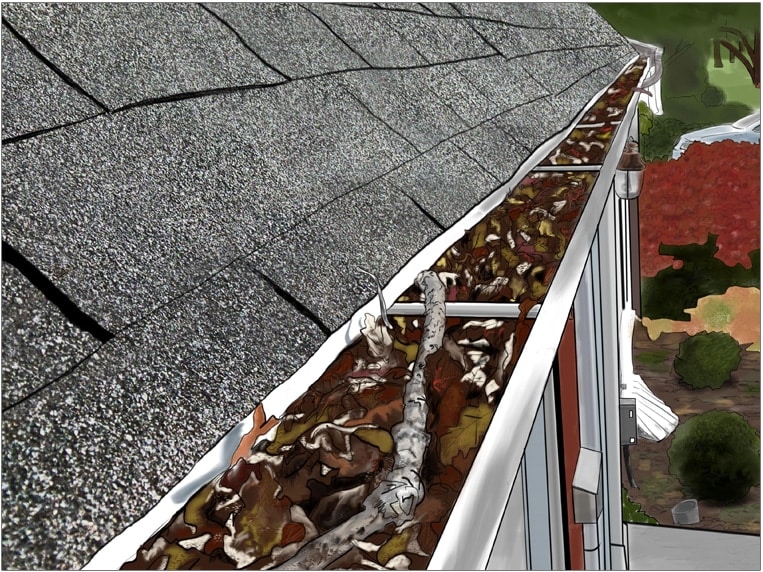 It All Starts from Here: the Roof and the Eavestrough
Whether shine or rain, the roof takes all the pain. Be it the summer heat, the monsoon rains, the winter snow or the spring leaves, our roof is the first defence for our homes. The first drop of rain strikes your roof and flows through the roof to the eavestrough. The eavestrough then carries the rainwater down through downspouts, taking the water away from your home and foundation walls, keeping your home safe. And it is recommended that you clean your entire eavestrough system once or twice every year!
Eavestroughs are clogged due to dead leaves flying into the gutters. And over time, leaves are collected in the gutters. Also, dust and dirt flying are stored in these gutters, which become mucky and clogged. Also, birds love to make nests in your eavestrough. All these elements block your eavestrough and prevent the smooth flow of water.
What happens if you don't take care of your eavestrough? As we said, it all starts from here. A clogged gutter could bring in problems like damaged ceilings, broken gutters, water spillage into walls, a wet basement, water damage to the exterior of your house, and insect infestation. All these problems could be avoided if you just take a few hours every year to care for your eavestrough system.
Even though the eavestrough system protects us from all the above, it doesn't receive the care it deserves. We don't blame you. We know it's tricky and risky to put up a tall ladder and do the cleaning yourself. Also, eavestroughs are mucky, wet and very awkward to clean. But you don't have to do it yourselves; let GJ MacRae handle the dirty work.
Eavestrough Repair, Maintenance and Replacement in Toronto!
GJ MacRae Foundation Repair is a complete basement waterproofing and foundation repair company in Toronto. We take care of your home, FROM THE TOP TO THE BOTTOM, literally. We provide services ranging from eavestrough repair and maintenance to basement footing repair and waterproofing. We offer a complete waterproofing solution to your home.
Many homeowners neglect eavestroughs because these gutters are installed at the edge of our roofs and are very difficult to access. And also because people are still generally unaware of the severe problems these gutters can bring if not cleaned regularly and adequately. So, don't wait until these clogged gutters damage your home. Get your eavestrough repaired and cleaned today. You might need a gutter replacement, and you wouldn't even know it. If you face any of these problems, it's time to replace your eavestrough.
Gutters Pulling away from your house or fascia
Missing Sections of Gutters
Leakage from your gutters
Gutters Sagging
Water Pooling around the perimeter of your home
Contact us as soon as possible. Spend a little time above, and save a lot of money below!
Eavestrough Replacement and Repair Process
It might seem simple, but installing a rain gutter takes a decent amount of calculations. Many rookie contractors use way too small rain gutters that end up harming more than it ever helps. They install a small gutter without considering the roof size and the steepness. During heavy rain, rainwater falls, bypassing the gutters and splashing your walls. Also, water starts to puddle around your house's base, which can damage your foundation walls. So it is vital to install eavestroughs of appropriate size.
GJ MacRae takes all things into account and recommends a gutter of appropriate size. We consider the roof size and the steepness while recommending the gutters. Also, we can coordinate the installation of downspouts in proper places and proper numbers. Installing a few downspouts can cause water to spill out from the eavestroughs because the input is more than the output. The drainage capacity should be calculated with respect to the rain.
Now the last part is the downspout extensions. We know it could look unpleasant when there are downspouts extensions across your garden, but it's all for the safety of your house. But we have a solution for that as well. We can bury the downspouts under the ground and run them further out. These extensions help divert water away from your house and its foundation, keeping your walls safe. Also, we direct the excess water in a downhill grade so the water doesn't flow back.
5 Step Eavestrough Repair Process:
Frequently Asked Questions:
GJ MacRae Foundation Repair is a complete basement waterproofing and foundation repair company in Toronto. We provide a wide range of services, including eavestrough repair, maintenance, installation and replacement services. We offer a complete roof drainage solution to protect your ceiling and walls from rainwater.
We perform precise calculations when it comes to selecting the size and dimensions of your gutters, the number of downspouts for comfortable drainage and the appropriate lengths of downspouts extensions to divert water away from your house.
We are a completely family-owned second-generation waterproofing company based in Toronto. We have served The Greater Toronto Area and surrounding cities for almost five decades. Our work is always of the highest quality, and we back it up with a transferable 15-year warranty. Having served over 10,000+ customers to date, we certainly know what we are doing. Thousands of positive reviews across HGTV and Homestars speak for themselves about our quality services and customer satisfaction.
A Word from Our Customers
Industry-leading GJ MacRae Waterproofing Services
GJ MacRae Foundation Repair provides customers with top-notch services in foundation repair in Toronto. There are various Waterproofing Services available such as Basement Waterproofing, Interior/Exterior Weeping Tile Systems, Sump Pumps Installation, Crack repair, etc. Over 48 years of experience and 10,000+ satisfied customers from Toronto, our licensed specialists are completely confident that we can guarantee the best results with the most reasonable price and warranty for each type of project request.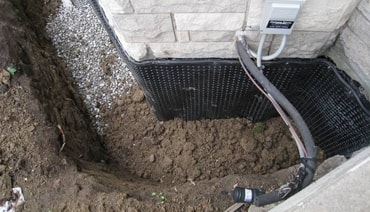 We specialize in basement waterproofing services for below grade concrete block, poured concrete, field stone, and rubble stone foundation walls. With over 48 years of service in the GTA and backed by the most reliable warranty in the business, see what the GJ MacRae difference is all about.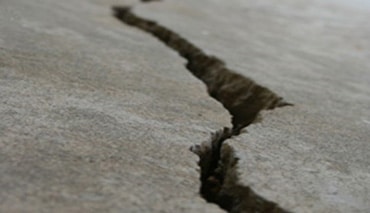 Foundation Crack Repair Toronto
Is there a crack in your poured, block, or rubble stone foundation wall, and is this crack allowing water to leak into your basement? Why do interior crack repair methods simply not work? Trust the experts and see why GJ MacRae Foundation Repair carries the most reliable crack repair warranty in the business.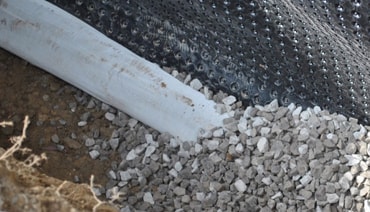 Weeping Tile Systems Toronto
A century-old technology, reborn! Our services also include interior and exterior weeping tile systems coupled with deep insights and experience relating to all things drainage. Ask us about the difference between interior and exterior drainage methods and enjoy the benefit of our expertise!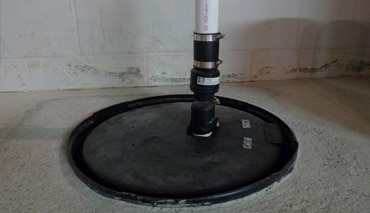 Sump Pumps Toronto
Sump pumps and sump basins are an integral part of all below grade drainage strategies due to their simplicity, reliability, low cost and proven effectiveness. Ensure your sump pump, basin and battery backup system are well maintained and ready for the next big rain or thaw.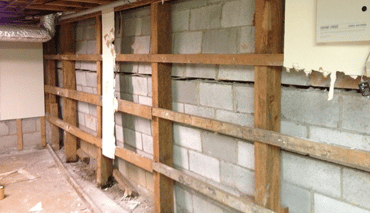 Structural Wall Repairs Toronto
Is the structure of your home moving and is this movement accelerating as the years pass? The sooner the integrity of your foundation is restored, the better. We have a full line of time-tested, certified structural foundation repair solutions tailored to your scope and budget.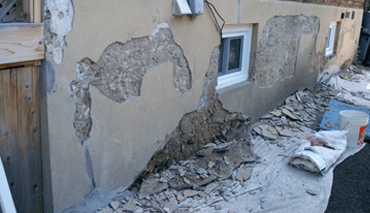 Crumbling Foundations Toronto
Are your foundation walls spalling, eroding or fragmenting? Is this damage accelerating through the years? Stopping moisture penetration through your above grade concrete structure is imperative. We offer brush parging, s-type, adhesive, mesh, fiber and thermal-slurry solutions for a lasting barrier.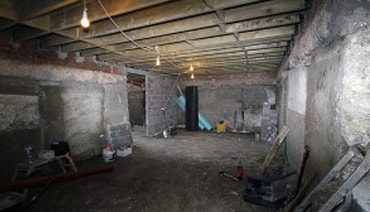 Basement Underpinning Toronto
GJ MacRae are pioneers of the overflow underpinning method in the Greater Toronto Area. Our underpinning process allows for safe, reliable vertical increases in basement ceiling height that can turn crawl spaces into full living quarters; and all for less than a standard second story addition.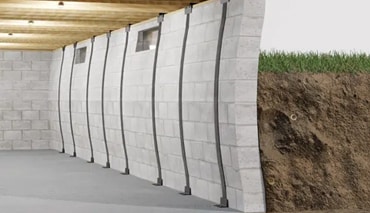 Structural Carbon Fiber Toronto
When your foundation walls begin to show signs of cracking or bowing it is generally an indication of severe exterior lateral pressure from tree roots, hydrostatics or poorly draining soil. Click here to find out more about our full line of carbon fiber foundation reinforcement applications.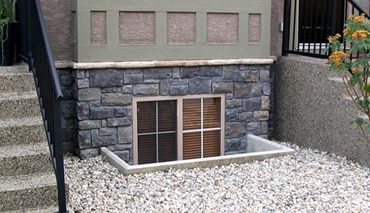 Window Wells Toronto
Basement windows are a great source of natural light and can also act as a designated fire escape, but what happens when window wells begin to deteriorate, clog and leak? Our hand excavated exterior window well repair solutions are permanent and allow for unimpeded drainage all year long, guaranteed.
Seamless Gutters for a Seamless Flow
Get your eavestrough cleaned today and enjoy peace of mind. A clean and unclogged gutter helps to drain all the rainwater away from your roof. And with that, all your leakage problems are gone too.
Need eavestrough cleaned, replaced or installed? Contact GJ MacRae, the finest eavestrough installation contractor in Toronto. Give us a call or fill out the form below and our team will inspect your roof and provide the ideal gutter and downspout installation solutions for your roof. Feel free to contact us at (905) 824-2557 or fill out the form below.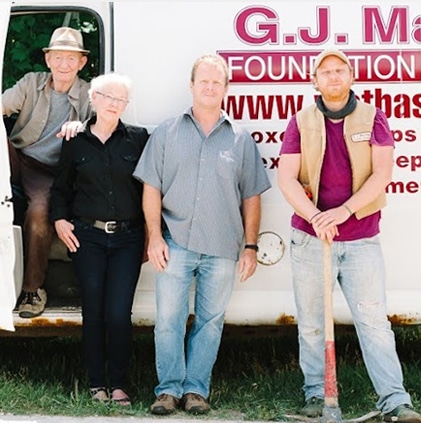 Frequently Asked Questions:
Schedule A Visit With Us Now!
After you fill out the form below, we will contact you as soon as possible for A FREE ESTIMATE. If you still have any questions, feel free to contact us anytime.