Weeping Tile Installation In Toronto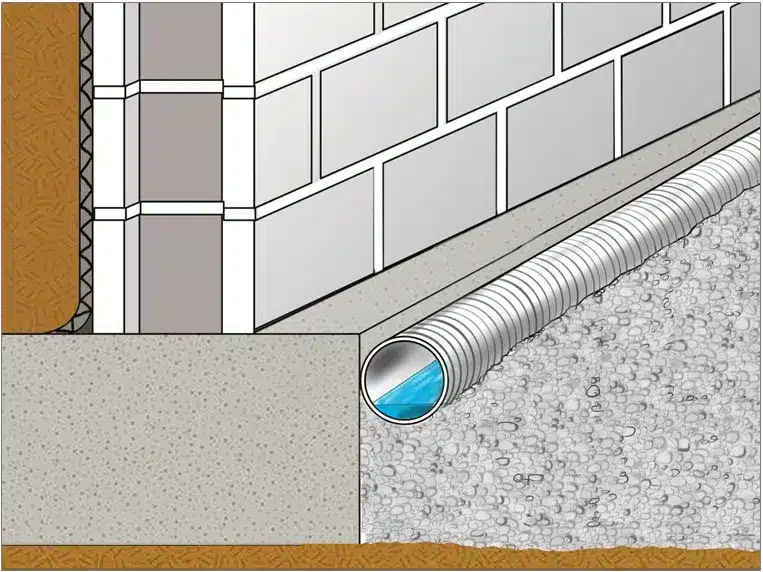 Water is an ever-present challenge for basements, particularly in a city like Toronto, with its fluctuating weather patterns,old homes and heavy rainfall. Without proper water management, buildings can face many problems, including basement flooding, foundation cracks, and mold growth. Thus, efficient water management is crucial when protecting your home or commercial property in Toronto. One often overlooked but essential aspect of this is the installation and maintenance of weeping tiles.
So, what are weeping tiles? People often get confused that having tiles in name has something to do with flooring. While weeping tiles, also referred to as foundation drains or perimeter drains, are pipes that have small weep holes which play a crucial role in managing groundwater and surface water around foundations and structures. Their purpose is to prevent moisture buildup and protect the foundation from potential damage. These drainage systems are designed to capture and divert excess water away from the foundation, ensuring that it doesn't seep into the surrounding soil and cause structural issues. They act as a barrier against water infiltration, keeping the foundation dry and stable.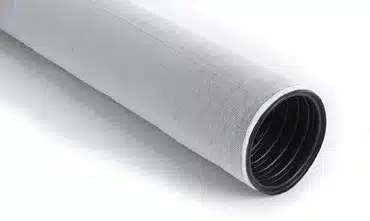 Benefits Of Installing Weeping Tiles
Installing weeping tiles offers several benefits for residential and commercial properties. Here our experts have listed some key advantages:
1. Weeping tiles efficiently collect and divert water away from the foundation, preventing moisture buildup around the property and helping your property to eliminate the risk of basement flooding and water seepage into the interior space.
2. Weeping tiles installation acts as a protective barrier for the foundation by managing water flow and preventing excessive moisture.
3. Weeping tiles ensure proper water drainage, reducing the conditions necessary for mold formation and protecting indoor air quality.
4. By effectively managing water, weeping tiles create a dry and comfortable basement environment. This enables homeowners to utilize their basements for various purposes, such as additional living space, storage, or recreational areas, without concerns about dampness or water-related issues.
5. The installation of weeping tiles helps to prolong the lifespan of the property by preventing water damage and minimizing the risk of structural issues.
6. Weeping tiles can significantly reduce the need for costly repairs and maintenance associated with water-related damage. This translates into potential savings for property owners over the long run.
7. Restored or repaired weeping tile installations enhances the overall value of the property. Prospective buyers and tenants are attracted to properties that have a well-maintained and reliable water management system, as it offers peace of mind and protection against potential water-related issues.
Weeping Tiles Installation Services In Toronto
While the concept of weeping tiles may seem straightforward, their installation requires professional expertise. Hiring experienced contractors in Toronto is essential to ensure optimal performance and long-term durability. If you have lived in Toronto for a long time and have to repair your home, you might have heard the name GJ MacRae Foundation Repair. Well, if you are new or don't know about us, don't worry; let us introduce ourselves! GJ MacRace Foundation Repair hasone of the best waterproofing solutions in Toronto, specializing in drainage & basement waterproofing services since 1975. During this time, we have provided our services to more than 10,000 clients who are satisfied with our work. As a family-owned company, we don't compromise on the quality of services, which is one reason why people in need of basement waterproofing services in Toronto contact us. And if you are looking for weeping tile installation services, call us today!
Interior Weeping Tile Installation

If you want to create a beautiful and comfortable interior space, Interior weeping tile installation offers an innovative solution to combat water infiltration and protect your property from potential damage. It provides an effective solution by redirecting water away from your foundation and preventing it from entering your living space. This proactive measure not only safeguards your property but also enhances the overall aesthetics of your home.
Well, the process of interior weeping tile installation begins with a thorough assessment of your interior space, identifying areas prone to water infiltration. Our installation experts then strategically place weeping tiles along the perimeter of your interior walls, effectively capturing and channeling water toward a sump pump system or a designated drainage point. This redirects any potential water damage away from your living areas, preserving the integrity of your property.
Exterior Weeping Tile Installation
When it comes to safeguarding your property in Toronto against water infiltration and potential damage, brand new exterior weeping tiles installation is a game-changer. This specialized drainage system plays a crucial role in managing water around the foundation, preventing basement flooding, foundation cracks, and other water-related issues. Exterior weeping tiles provide a proactive solution by intercepting water before it reaches the foundation. By efficiently diverting water away from the property, these drainage systems act as a robust defense against potential water-related damage.

The installation process is similar to installing interior weeping tiles, which begins with excavating the area around the foundation to expose the exterior walls. Perforated drain pipes are strategically placed at the base of the foundation (at the footing) and effectively captures and redirects water away from the property. A filter fabric is wrapped around the drain pipes to prevent clogging and enhance water filtration. The excavated area is then carefully backfilled, creating a well-drained foundation perimeter.
Whether you are looking for interior or exterior weeping tiles installation in Toronto, it is crucial to enlist the services of professional contractors experienced in this specialized field. GJ MacRae Foundation Repair is the best, with experts who possess in-depth knowledge of local regulations and building codes, ensuring compliance and optimal performance. Besides, we utilize advanced techniques and equipment to ensure precise installation and long-lasting effectiveness.
6-Step Process of Installing Weeping Tiles
Interested in Weeping tiles installation? Well, the experts in weeping tile installations in Toronto have listed outsteps to show you how it's done, which helps with proper implementation and long-lasting performance. Here is an overview of the typical process followed by the professionals:
Frequently Asked Questions:
Why Choose GJ MacRace Foundation Repair?
GJ MacRae Foundation Repair is a leading name in the basement waterproofing and foundation repair industry. We have been in business for almost 5 decades, and we have served more than 10,000+ satisfied customers, which has helped us to gain an exceptional reputation. Our skilled staff and our high-quality products ensure that we deliver top-notch results.

We offer a full range of basement waterproofing services for all kinds of houses, whether old or new. These include interior and exterior weeping tiles installation, basement waterproofing, underpinning, crack repair, and more. Our experienced professionals execute our customized basement waterproofing solutions that last for years.
A Word from Our Customers
Industry-leading GJ MacRae Waterproofing Services
GJ MacRae Foundation Repair provides customers with top-notch services in foundation repair in Toronto. There are various Waterproofing Services available such as Basement Waterproofing, Interior/Exterior Weeping Tile Systems, Sump Pumps Installation, Crack repair, etc. Over 48 years of experience and 10,000+ satisfied customers from Toronto, our licensed specialists are completely confident that we can guarantee the best results with the most reasonable price and warranty for each type of project request.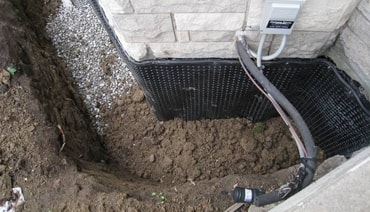 We specialize in basement waterproofing services for below grade concrete block, poured concrete, field stone, and rubble stone foundation walls. With over 48 years of service in the GTA and backed by the most reliable warranty in the business, see what the GJ MacRae difference is all about.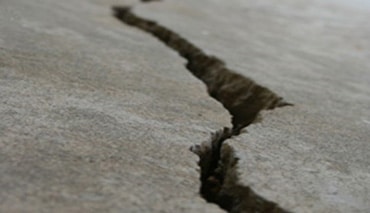 Foundation Crack Repair Toronto
Is there a crack in your poured, block, or rubble stone foundation wall, and is this crack allowing water to leak into your basement? Why do interior crack repair methods simply not work? Trust the experts and see why GJ MacRae Foundation Repair carries the most reliable crack repair warranty in the business.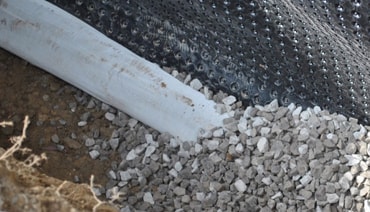 Weeping Tile Systems Toronto
A century-old technology, reborn! Our services also include interior and exterior weeping tile systems coupled with deep insights and experience relating to all things drainage. Ask us about the difference between interior and exterior drainage methods and enjoy the benefit of our expertise!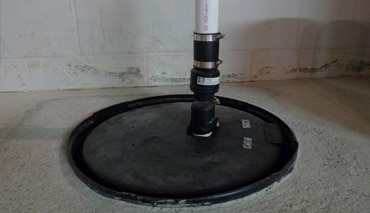 Sump Pumps Toronto
Sump pumps and sump basins are an integral part of all below grade drainage strategies due to their simplicity, reliability, low cost and proven effectiveness. Ensure your sump pump, basin and battery backup system are well maintained and ready for the next big rain or thaw.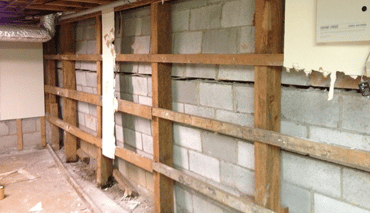 Structural Wall Repairs Toronto
Is the structure of your home moving and is this movement accelerating as the years pass? The sooner the integrity of your foundation is restored, the better. We have a full line of time-tested, certified structural foundation repair solutions tailored to your scope and budget.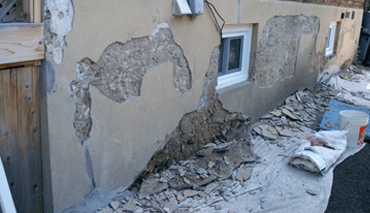 Crumbling Foundations Toronto
Are your foundation walls spalling, eroding or fragmenting? Is this damage accelerating through the years? Stopping moisture penetration through your above grade concrete structure is imperative. We offer brush parging, s-type, adhesive, mesh, fiber and thermal-slurry solutions for a lasting barrier.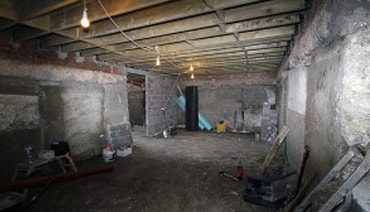 Basement Underpinning Toronto
GJ MacRae are pioneers of the overflow underpinning method in the Greater Toronto Area. Our underpinning process allows for safe, reliable vertical increases in basement ceiling height that can turn crawl spaces into full living quarters; and all for less than a standard second story addition.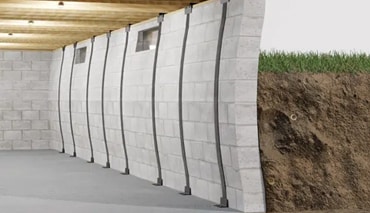 Structural Carbon Fiber Toronto
When your foundation walls begin to show signs of cracking or bowing it is generally an indication of severe exterior lateral pressure from tree roots, hydrostatics or poorly draining soil. Click here to find out more about our full line of carbon fiber foundation reinforcement applications.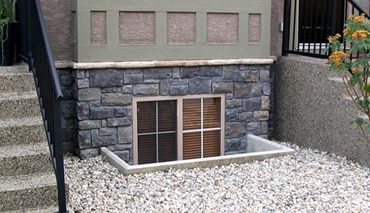 Window Wells Toronto
Basement windows are a great source of natural light and can also act as a designated fire escape, but what happens when window wells begin to deteriorate, clog and leak? Our hand excavated exterior window well repair solutions are permanent and allow for unimpeded drainage all year long, guaranteed.
Turn Your Foundation Flaws into Perfection
Now, you know all about weeping tiles, how they protect your property, and their installation process too. So, if you already have a leaky basement problem, call us at (905) 824-2557 or fill out the form below, and our experts will be at your home in no time. Don't let leaky water ruin your beautiful property.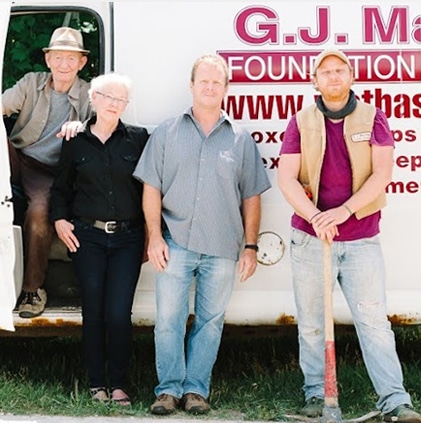 Frequently Asked Questions:
Schedule A Visit With Us Now!
After you fill out the form below, we will contact you as soon as possible for A FREE ESTIMATE. If you still have any questions, feel free to contact us anytime.